As part of ongoing Quantum World Cup 2022 celebrations – see previous social posts and news posts to keep up to date with all we've been up to this football season – we have been streaming football matches LIVE at Quantum House.
This year marks the 22nd running of the FIFA World Cup which is scheduled to take place in Qatar from 20th November to 18th December.
So far, this year's world cup has had some interesting match turn around. The Three Lions have made us proud with their excellent World Cup start (6-2) whilst Wales equalised with the USA, and Argentina, one of the most successful football nations lost to Saudi Arabia … anything is possible.
Do you have what it takes to correctly predict the next set of match games?!
If you answered yes, make sure to head down to Quantum house to give in your match score predictions for a chance to win:
£100 Love2Shop voucher AND the Official World Cup 2022 Football.
In order to be in with a chance of winning these amazing prizes, you must accurately guess the score of selected games* which are being shown LIVE at Quantum House.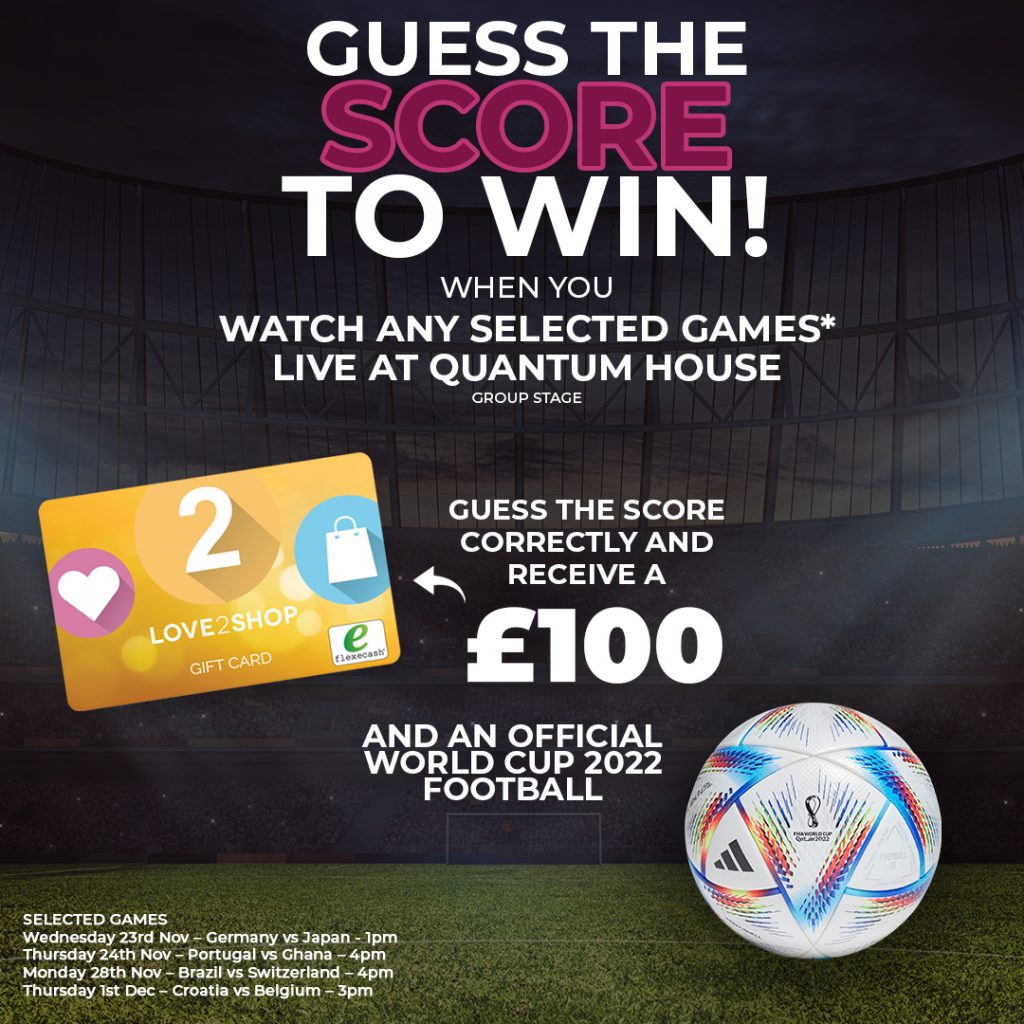 *Selected Games:
Wednesday 23rd November @1 PM – Germany vs Japan
Thursday 24th November @4 PM – Portugal vs Ghana
Monday 28th November @4 PM – Brazil vs Switzerland
Thursday 1st December @3 PM – Croatia vs Belgium
Qatar vs Ecuador 0-2
England vs Iran 6-2
Senegal vs Netherlands 0-2
USA vs Wales 1-1
Argentina vs Saudi Arabia 1-2
Denmark vs Tunisia 0-0
Mexico vs Poland 0-0
France vs Australia 4-1
Morocco vs Croatia 0-0
Germany vs Japan 1-1