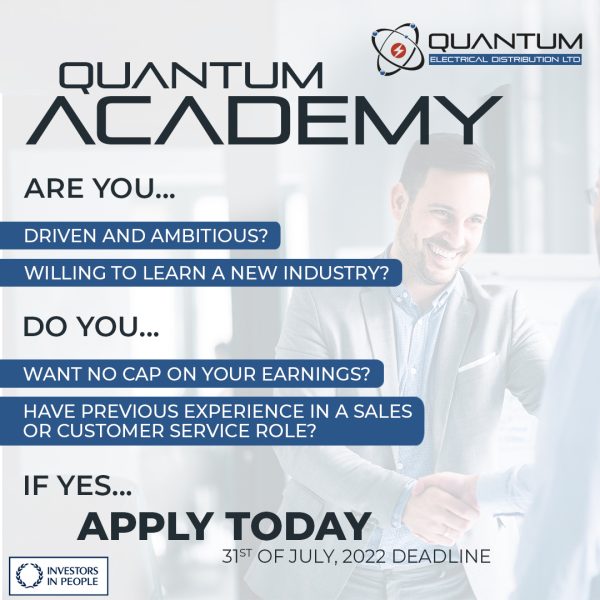 Welcome to the Quantum Academy.

Through the commitment, skill and professionalism of our employees, Quantum Electrical Distribution has grown to become a leading name in Electrical Wholesaling.
Continuing to develop skilful employees is at the centre of our ambitious growth plans for the future. We recognise that finding the right people and placing them in the right position whilst coaching them throughout their career is key to further growth of our business and new locations across the country.
Our employees are our business, and Quantum is always seeking new driven people to join our team to continue our success in the future.
The purpose of the Quantum Academy program is to seek driven and ambitious people, who have experience within the Sales and Customer service sectors, who may have previously felt held back from considering a new career within Electrical Wholesaling, purely due to concerns over their lack of knowledge of our industry. We believe that there are many fantastic individuals out there, of whom are not possibly unlocking their full earning potential, and instead are being held back in their existing roles.
Quantum's goal is to continuously promote an enjoyable working environment to all our employees, with our new "Quantum House" Crawley facility having its own inhouse gym, breakout areas, large canteen, modern operation, fresh fruit, and electric car charging to name a few; whereby no cap is placed on their earning potential, and people have the ability to dictate their own earnings, via the support of Quantum's intensive product training program.
We believe everyone has the ability to be successful, proud, and happy within the workplace and their career, so that together we build a rewarding business collectively and share our goals and achievements together.
If you think you have the drive and ambition to join us on our journey, then the Quantum Academy is the right choice for you to start your career in the Electrical Wholesale Industry today.