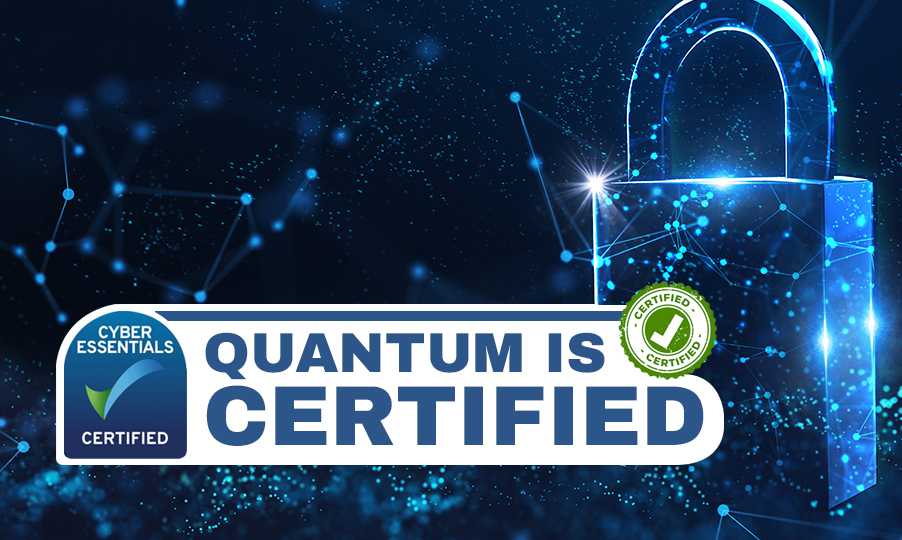 Good news: Quantum is Making Digital Safer with CyberEssentials
CyberEssentials is everywhere these days, and with good reason. In 2020 alone, 46% of UK organisations suffered a data breach or attack. It's easy to be concerned at statistics like that, but there is a silver lining. Many businesses, Quantum included, are getting ahead of the cyber-criminals by investing in improved digital security. That's why we're proud to announce that Quantum has qualified for CyberEssentials Certificate of Assurance through Cybersmart.
What is CyberEssentials?
Cyber Essentials is a UK government information/data assurance scheme operated by the National Cyber Security Centre (part of GCHQ) that encourages organisations to adopt good practices surrounding data security. The scheme aims to help companies better understand and manage how they protect themselves against cyber threats.
CyberEssentials certification is a 'point in time snapshot', and businesses must reapply for certification yearly, which means that you need to be constantly updating and improving your security protocols to retain certification.
Companies like Quantum are proud to take part in the CyberEssentials scheme because it provides range of benefits. It also provides our customers and clients peace of mind in knowing that their data is in safe hands and being properly protected.
What are the Benefits of CyberEssentials?
Aside from the intrinsic gain of safeguarding your business' and customers' data, CyberEssentials offers other benefits. For example, many companies today are requiring digital security certification before they do business with you. CyberEssentials is also a prerequisite to landing government contracts. As CyberEssentials is government-backed it's recognised as a standard UK wide, meaning that any of our clients going after government work will have an advantage in using a certified supplier.
Quantum are hugely proud to be taking part in this scheme and pushing ahead for greater cybersecurity in our industry. To learn more about our commitment to cybersecurity, or to hear about what else is happening at Quantum, make sure you follow us on social media using the links below.